Home At Last
I made it home after almost a month of traveling. The National Geographic Conference in DC was interesting and informtive. It was exciting to meet so many new people from around the country. We spent a whole week learning about Africa and ways to teach students about it. The evenings were spent socializing at the National Conference Center in Lansdowne, VA. The food was pretty good, too.
I got back to Dallas July 14, and on the 16th drove to Houston to attend the AP Summer Institute at Rice. I met more folks, and knew several from other trainings. Susan Hollier was awesome, and full of ideas for teaching Geography. She did a great job of modeling her teaching style for us. I would say I'm eager to try it out on my students but I am not sure if they are ready to work that hard.
I stayed inb Houston that Friday night to eat dinner with my parents, aunt, and cousins ho I don't see very often. My aunt reserved the private dining room at Carrabba's on Voss, and we had a wonderful time.
I got home Saturday the 22nd, and we left for Lake City, Colorado. We camped beside a lovely stream up near Slumgullion Pass. The dog loved it.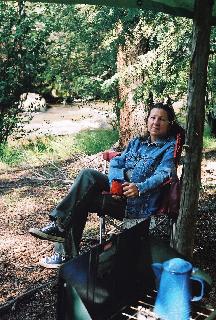 We stayed at the Matterhorn Motel one night. My parents stayed there in the 40's, I went with my family in the 60's, we went in the 70's, and took our kids in the 80's and 90's. They were booked up or we would have stayed another night or 2. It rained really hard the night we stayed there - I'm glad we weren't camping that night.
We also camped up Nellie Creek, a tributary of Henson Creek. Up the creek is the trailhead of the hike to Uncompahgre mountain, one of 5 fourteeners in Hinsdale County.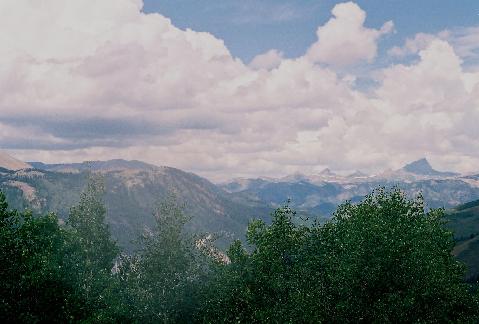 Aftr several days in Colorado we drove south to new mexico and toured Chaco Canyon. Very stark landscape, with little natural vegetation or water.
Petroglyphs on the wall behind the great house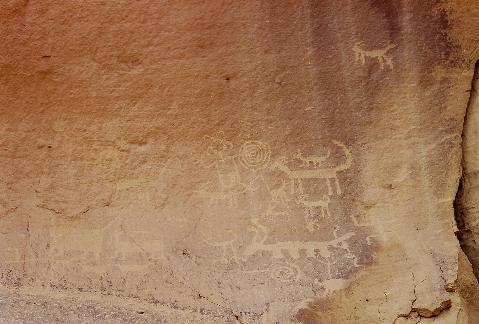 Pueblo Bonito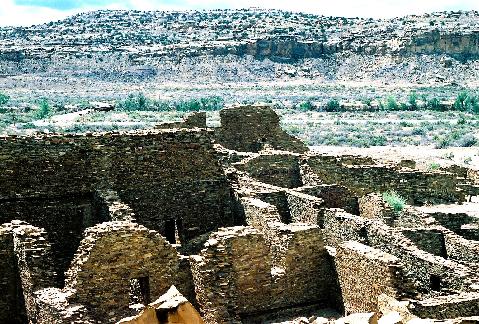 We're home, avoiding the heat. I have one week before I have to start back to school. My niece is coming up tomorrow to stay for a few days, so I will be busy with an almost 13 year old 7th grader. I hope I have enough energy.
peace,
geography lady